Income and taxes 2019, final
Income growth rate slowing in recent years
Statistical news from Statistics Sweden 2021-01-27 9.30
Households' economic standard continued to increase in 2019, albeit at a slower rate than in the early 2010s, according to statistics on households' incomes and taxes.
Households' economic standard increased by 0.7 percent in 2019, while the increase in the four-year period 2016–2019 was just over 3 percent. An income growth rate this low hasn't been noted since the economic recession in the 1990s, when the economic standard decreased. In the previous four-year period, 2012–2015, the increase was just over 11 percent.
Somewhat greater income inequality in 2019
Differences in income, measured using the Gini coefficient, increased somewhat in 2019, although the differences were smaller than in the years 2015–2017. Differences in income also increased when capital gain and all capital income for 2019 respectively were excluded. When all capital income is excluded, then differences in income, measured using the Gini coefficient, have remained relatively stable during the 2010s. However, taken over a longer period, income disparities have increased.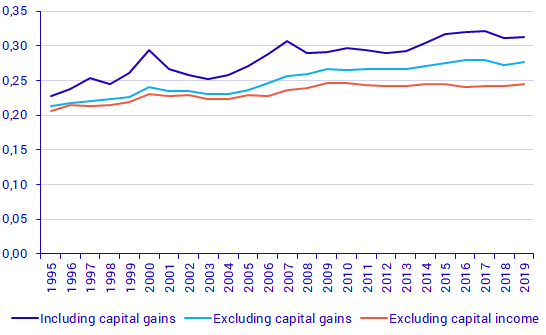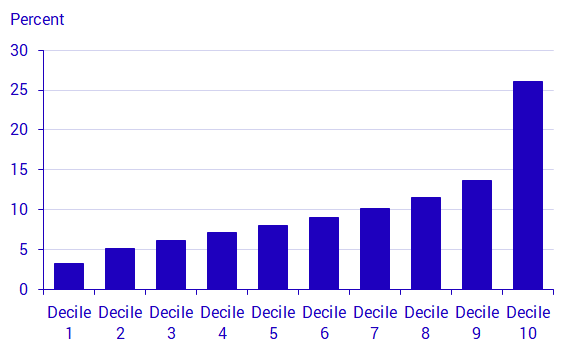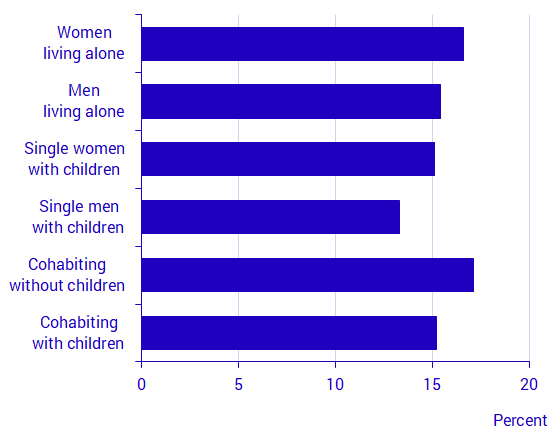 Definitions and explanations
Disposable income: The sum of all taxable and non-taxable income less taxes and other negative transfers (such as repaid study loans) of all household members.
Economic standard: For a comparison of disposable income between different types of households, disposable income of the household is placed in relation to the number of adults and children in the household.
At-risk-of-poverty rate: The at-risk-of-poverty rate refers to the share of people who live in households with an economic standard that is less than 60 percent of the national median value.
Gini coefficient: The Gini coefficient is used to show inequality in the income distribution. The coefficient is a value between 0 and 1. A high coefficient value indicates greater inequality than a low value.
Statistical Database
More information is available in the Statistical Database
Feel free to use the facts from this statistical news but remember to state Source: Statistics Sweden.