Women and men in Sweden 2014:
30 years of statistics on gender equality
Statistical news from Statistics Sweden 2014-07-03 9.30
Today Statistics Sweden is publishing the booklet "Women and Men in Sweden - Facts and figures 2014". Because this year marks the 30th anniversary of the booklet, we provide a look back in time to see the progress that has been made with increased gender equality. At the same time we see that much is left to be done.
The first booklet was released in 1984 and included statistics for the areas that were considered most important for gender equality then. One of these areas dealt with the possibility of women and men to live economically independent lives. This is still a current topic and is now one of the gender equality policy areas. Economic independence is of course a lifetime goal. What is the situation today?
In 2013, 30 percent of all women worked part-time. This percentage has decreased from 45 percent in 1987. During the same period the percentage of men who work part-time has increased from 6 to 11 percent.
The percentage of women working part-time has decreased for women of all ages except the youngest ones aged 20–24. This group includes many students who do not have the opportunity to work full-time. Among men the percentage of those who work part-time has increased for all age groups except those aged 55–64.
The fact that women work part-time to a greater extent than men is one of the reasons why women on average had 66 percent of the pension amount of men in 2012.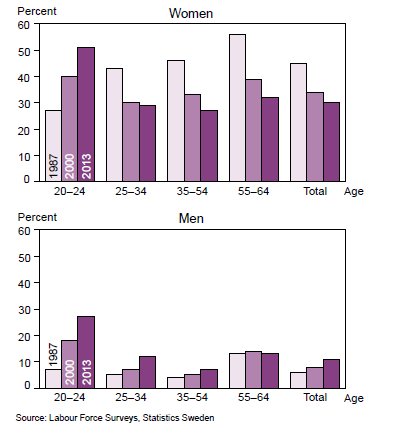 Many mothers work part-time even when their children are in their teens
Thirty years ago many of today's pensioners were parents with small children and a large percentage of the women worked part-time. The more children they had and the younger the youngest child was, the greater the percentage of them worked part-time. Among women who had 2 children or more and where the youngest child was aged 11–16, more than half worked part-time.
Today women with children still work part-time but to a somewhat lesser degree. Among fathers, part-time work is 10 percent or lower both today and thirty years ago.
More temporary employees in the private sector than in the public sector
Besides insecure employment, a temporary position means that a person may not have been gainfully employed throughout the year, something that affects income and pensions negatively. More women than men have these kinds of positions.
Temporary employment has increased for both women and men since 1987, and primarily in the private sector where most temporary positions exist.
Parental benefit days not used equally
After 40 years of parental insurance where both the mothers and the fathers have the possibility to take parental benefit days to be with their children, the mothers still use most of the parental benefit days. Women use 75 percent of the days while men use 25 percent of them. In 1985 women used 94 percent and men 6 percent.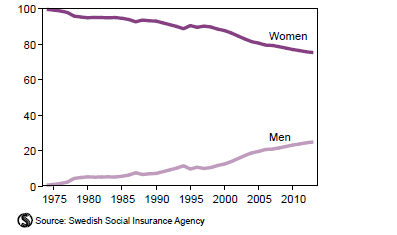 Low pay, low income, low pension
In 2012 women on average earned 86 percent of what men earn. The main explanation for differences in pay is that women and men have different occupations. Moreover, men on average have higher pay than women in most occupations, even in many occupations that are dominated by women.
Differences in pay are of course important. But another important issue is the total income that is determined by how much we work during the year, and then forms the basis of the pensions we receive. In 2012 women earned 80 percent of what men earned; this fact shows that the issue in 1985 about economic independence is still current.
The booklet includes many other statistics and comparative figures that illustrate the lives of women and men in society.
Publication
The full publication is available on Statistics Sweden's website.
Feel free to use the facts from this statistical news but remember to state Source: Statistics Sweden.